Immigration-related education group to host annual day at Arizona … – Daily Independent
Aliento Education Fund will be hosting its annual Education Day Wednesday, February 15 at the Arizona State Capitol to provide students the opportunity to talk to legislators to inform them on multiple issues that are important for our communities.
Already have an account? Log in to continue.
Current print subscribers can create a free account by clicking here.
Otherwise, click here to subscribe.


To Our Valued Readers –
Visitors to our website will be limited to five stories per month unless they opt to subscribe. The five stories do not include our exclusive content written by our journalists.
For $5.99, less than 20 cents a day, digital subscribers will receive unlimited access to YourValley.net, including exclusive content from our newsroom and access to our Daily Independent e-edition.
Our commitment to balanced, fair reporting and local coverage provides insight and perspective not found anywhere else.
Your financial commitment will help to preserve the kind of honest journalism produced by our reporters and editors. We trust you agree that independent journalism is an essential component of our democracy. Please click here to subscribe.
Sincerely,
Charlene Bisson, Publisher, Independent Newsmedia


Click here to see your options for becoming a subscriber.
Click here create a free account for posting comments. Note that free accounts do not include access to premium content on this site.
Aliento Education Fund will host its annual Education Day Wednesday, Feb. 15, at the Arizona State Capitol to provide students the opportunity to talk to legislators to inform them on multiple issues that are important for our communities.
Aliento is a youth-led organization that serves undocumented, DACA, and mixed immigration status families to transform trauma into hope and action.
"Every year, we have a huge and amazing group of students that seek the opportunity to talk directly to our state representatives and senators to make sure they hear from them about some of the most pressing issues for our communities," Reyna Montoya, Aliento's Founder and CEO said in a release.
<!–//<![CDATA[
zoneId = '12';
var m3_u = (location.protocol=='https:'?'https://yourvalleybanners.creativecirclemedia.com/www/delivery/ajs.php':'http://yourvalleybanners.creativecirclemedia.com/www/delivery/ajs.php');
var m3_r = Math.floor(Math.random()*99999999999);
if (!document.MAX_used) document.MAX_used = ',';
document.write ("");
//]]>–>

This year, the students will discuss concerns on issues such as driver´s licenses for Dreamers, DACAmented, and Undocumented communities, repealing the English-only measure, and securing funding for the College Promise Programs.
All this after the voters approved Proposition 308, which allows any Arizona student, regardless of their immigration status, to be eligible for in-state tuition if they graduated from and spent at least two years attending an Arizona public or private high school, and it is now in the hands of the Arizona electorate to make this happen.
Aliento supports students and families impacted by the inequities of lacking an immigration status through education initiatives, arts & healing programming, leadership development training, policy & advocacy.
Students that would like to join Education Day, can RSVP at https://www.alientoaz.org/events/bitly/eday2023.
Other items that may interest you
Most popular stories in Daily Independent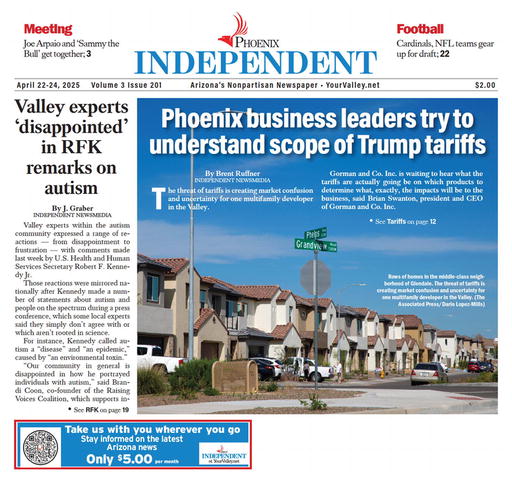 Read the latest print edition here.
View this issue
<!– Browse other issues –> Browse other issues
DON'T MISS A BEAT: Simply submit your e-mail address below, click on the opt-in email link and watch your inbox for news from the Daily Independent at YourValley.net. Thank you for reading!
JUNEAU, Alaska (AP) — The U.S. Environmental Protection Agency on Tuesday effectively vetoed a proposed open-pit copper and gold mine in a remote region of southwest Alaska that is a trove of …
Fisher-Price® Launches Exclusive Little People Collector™ Super Bowl LVII Champions Set
Phoenix gun dealer part of Mexico violence allegations
Drugmaker Pfizer starts low with 2023 earnings forecast
Adult Happy Meals, McRib, feed McDonald's sales in Q4
Serbia, Montenegro, Bosnia do little to solve waste problem


YourValley.net
623-972-6101
17220 N Boswell Blvd
Suite 230E
Sun City AZ 85373
Email: azdelivery@iniusa.org